Alright let's talk jean shorts.
Anyone who's dipped into a popular mall store knows what's out there at this point.
They're short. They're overpriced. They're made for the bodies of 13 year olds.
But fret not. Cut off shorts are easier to obtain than you may have thought.
But that doesn't mean grab an old pair of jeans and a pair of scissors and go at it. Because here's the thang:
When you buy jeans for yourself, you buy them to fit your thighs.
And there's nothing less fortunate than a person who has jean cutoffs that cling to their thighs. Let's have a moment of silence for those poor souls.
Instead you could try doing what I did. Go to a thrift store, find a pair of jeans that are a size or two too big. Make sure they still stay up on you but leave plenty of room at the thigh.
It doesn't matter if they're too short but the quality of the jean material is crucial. Make sure they're not a junior brand. Make sure they don't have stretch to them, and make sure they're the type of denim you'd see hanging from a clothes line in the 1950s. Mine were Polo.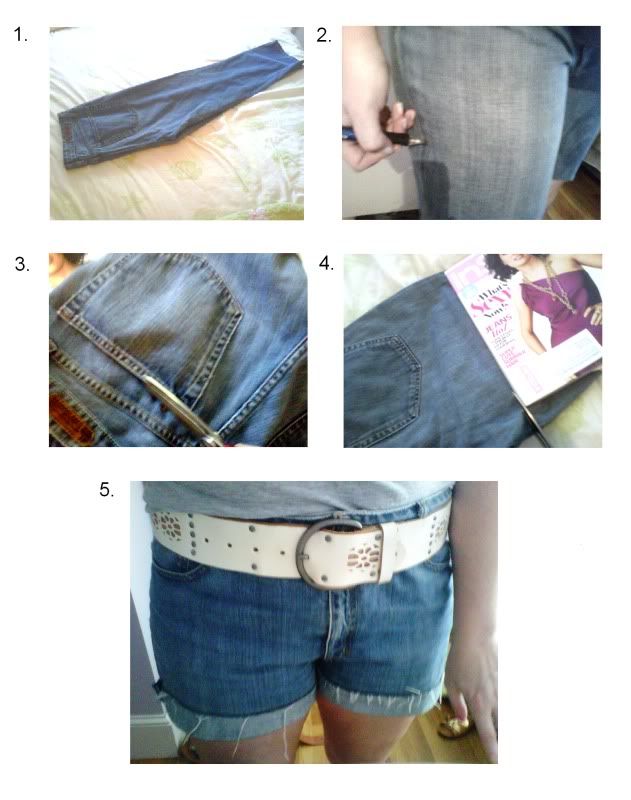 Then take them home and put them on. Mark the inside and outside of one thigh, about an inch longer than you think is appropriate. (That way you can roll them up a tad, and they won't fray into nothingness the first time you throw them in the wash.)
Then use a magazine and cut straight all the way through both legs from one mark to the other. Use the scissors to cut the threads at the top of the pockets. Wet the jeans and throw them in the dryer. Wherever a white string sticks out of the material, pull it out. Make friends with it.
My advice is this. If you wear cutoffs, try to dress classy otherwise. It's all about balance. Here's an inspiration page from runwaydaily showing how other broads wear the trend: